100 years of Incorporation
This year marks the end of the first 100 years of Pennsylvania Delta Corporation and the chance to renew and extend our friendships through a celebration of our common history, mission, and values.  And like the waters of the Black Warrior River in Tuscaloosa, Alabama, Pennsylvania Delta's ranks have swelled, and on occasion, required the brotherhood to seek larger quarters.  Our history at Gettysburg College transcends the history of 41 W. Lincoln Avenue and goes back to June, 1883.
Pennsylvania Delta Corporation Established
Under the General Corporation Act of April 29, 1874, the corporation was originally incorporated under the following name: The Pennsylvania Delta Corporation of the Sigma Alpha Epsilon Fraternity by decree of the Court of the Common Pleas of Adams County Pennsylvania entered on January 21, 1911.
A New Era: 41 West Lincoln
This is one of the early pictures of SAE Fraternity at 41 W. Lincoln Avenue and appears much like it did when originally constructed in 1903.  Neither the Fraternity letters nor the iron porch railing was present at the time this picture was taken.  Visible alongside the cupola on the third floor is the iron fire escape from the rack room.
The house was constructed by (and for) State Senator William Augustus Martin (August 8, 1842- October 22, 1922), formerly of Menallen Township.  At the age of 20, he had taken up ambrotyping (printing on glass) following that with lumbering, charcoaling, and framing which he continued with through erection of the house.  Sen. Martin became ill in 1920 and for 18 months, was confined to his house.  He improved to the point of being able to attend Citizen Trust Board Meetings for whom he served as vice-president.  He was seriously ill only few hours before his death on Sunday, October 22, 1922 at the age of 80.  The house was subsequently purchased March 29, 1923 by the Fraternity.
Prior to the renovation in the mid-1970's, PA Delta Corporation Executives  discovered that Senator Martin had used a different type of wood in each of the rooms to construct the trim and baseboards, harkening back to his roots in the lumber business.
The hatched area represents the addition that extended from the basement up through the dining hall and into the second floor rack room to the right and rear of the house.
The area on the left side of the house extended the front rooms and two of the second floor bedrooms.
The third floor rack room was subsequently converted to brothers rooms prior to being permanently closed when the 2nd floor rack room was sub-divided and converted to brothers' rooms.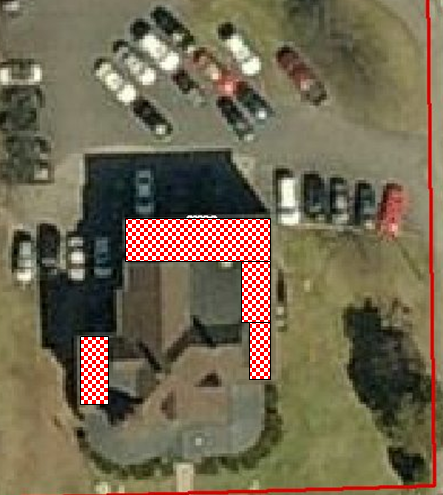 A Home for All Seasons