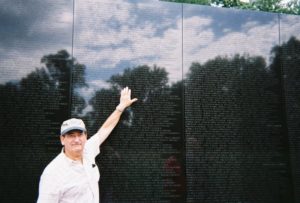 by Doc (Gerry Farrow, '62)
No matter how many times Joe's or Chuck's names come up I reflect and think of both these men and the sacrifice they gave… Our family did much as you did a number of years ago as I wanted to give my girls an understanding of all the good men that were lost in the war….While there I also located four other names of casualties that I had met in Korea…It took a while to find all but I did and as we were ready to leave I noticed Ted Williams who also was searching for names too. Yes, everyone I hope reflects on our loses and not just on Memorial Day.
Joe
Thanks for the pictures and memories of Joe. Between Joe and Tony Del Prete (both Marines), I feel we, as pledges, really earned our SAE pins! Does anyone know what happened to Carol, Joe's wife? Such a shame to lose a loved one so early in life!
Penn
I listen to a Jazz station regularly and every morning the program manager, whom I know, reads a thought for the day. This AM, after some appropriate lead in comments about our responsibility to remember our veterans, many of whom have given the ultimate sacrifice, he read the below. This is quote is true especially for me, personally, as I remember my roommate, Joe Murphy, '63, a Marine pilot shot down in Viet Nam, and also for other PA Delta SAE's others may also remember, who gave their lives so we can enjoy the freedoms we have today. The manager read my contribution I had emailed him for Memorial Day. It's one I found in my Mom's papers after she passed away and has a special meaning for me. For those who might have known Joe, as Albie and many others can confirm, he was a tough Marine through and through, but I still can picture him standing in front of the Brotherhood after his election as EA the spring of '62, with tears on his face thanking us for the honor. He was also an SAE through and through and loved our fraternity. So this is for Joe, whose influence still lives on in me, Albie and I'm sure many others.
The life of one we love is never lost….
It's influence goes on through
All the lives it ever touched
Christopher Hallaway
Phi Alpha, Brothers.
Hope to see many of you next week, and will miss those of you who can't make it for whatever reason. I get in Thurs evening.